BOOK YOUR BREAKTHROUGH SESSION TODAY!
DEAR (NEW) COACH, THIS IS FOR YOU IF:
You desire to build an Online Coaching Business, and you want to implement simple pipeline of dreamy high end coaching clients, and take your revenue from $2k month to $10k, and scale it to $25k+ months (even if brand new). 
Typical side effects: soulmate coaching clients, freedom, travel, great income and brand new lifestyle.
Please note:

You DON'T need a certification to be a Coach. BUT you do need life experience, corporate expertise or other skills to provide REAL value to your clients.
THIS IS NOT FOR YOU IF:
You are Network Marketer or MLM consultant, unless you desire to build your own Signature Coaching Business.
You have no desire to become a coach or y
ou want to create a non-profit or any other type of business. 
PLEASE NOTE:
Our time is VERY important for us and others. If you think you can't come to the scheduled call time, please cancel or reschedule it NOW, so someone else would have this opportunity.
By booking a call, you agree with our Privacy Policy.
I booked 8 discovery calls, and signed 3 clients! All of that in 3 weeks.
Launching my Coaching Business was non-negotiable for me, but I had no clue where to start. I'm finally doing it, and setting even bigger goals.
Embrace the opportunities, and go for it.
Jessica, Self love and Relationship Coach
I was brand new when I got started.
I now have a clear idea of my ideal client, my signature program, passive income, my business model and my goals for 2018.
I wanted to implement evergreen business model, and have a steady flow of ideal clients every month.
My goal was one client per week, and I smashed it! Signed 5 one-on-one clients, and made $12,500!!
Thank you, Reelika, for always having my back.
Michelle, Emotional Eating & Healing Coach
Thank you Reelika for believing in me, and showing me what's possible. I just got my two clients and both of them paid in full! My very first $10k month while travelling with my boyfriend. New normal!!
Corina, Mindset Expert
I quit my job in 3 weeks, and signed 2 clients!
I can't even express how much Reelika has helped me to develop my business. She has been an invaluable resource for a budding entrepreneur like myself and has given me the support and business suggestions that have taken my brand to the next level.
Having Reelika as my coach is the best business decision I have made and I can't thank her enough!
Nakeesha, Leadership Coach
I was brand new in coaching, but I knew it was my calling.
I trusted God to show me the way, and it has paid off well.
I know who I serve, and I have already signed 6 clients to my Signature Coaching Program, and launched 6 passive income products!
Thank you, Reelika, and thank you God!
Ladi, Entrepreneurship Mindset Coach for Christian Women
I enrolled my first high end client within 4 weeks!
I decided to work with Reelika to launch my first premium Coaching Package and learn how to fully automate my business with paying clients, and do the work I truly love.
Thank you, Reelika, for helping me to create a business that is totally in alignment with the truth of who I am.
Liz, Transformational Coach
Reelika takes the time to truly get to know you and your business, and supports you with a sincere, genuine and honest style. Reelika is such a savvy business woman and is the GO TO EXPERT for coaching and funnels! Reelika also has an amazing way of making you feel like you are capable of anything, and will help you achieve even your biggest goals and dreams!
Angela, Creative Business Strategist
I have come to Reelika to help me find my niche client and she was so amazing. She took so much time out to help me, helped me look at things from a different perspective that I would never have thought of, and to nail down exactly who I want to work with. I definitely say that if you are looking for a business coach, a lifestyle coach, or any kind of success coach overall, definitely come to Reelika. She will help you with so many of your needs and get you to the next level of your life.
Erica, Motivational Speaker and Coach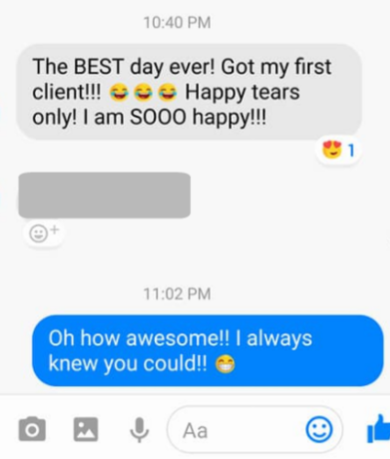 *Individual results vary. It's important to add a disclaimer to say these results aren't typical nor are they guaranteed. You actually need to apply the strategies I teach if you want to grow your coaching business. My goal is to help you cut down the learning curve in order to design coaching programs that sell and attract the right customers to grow your business.
VERY LIMITED OPENINGS: Apply Now!