Decision to Succeed
from Dreamy vision to high level Success
A powerful coaching experience for visionary new coaches
By Reelika Schulte
Ready to say bye-bye to corporate cage and free coaching, and HELLO soulmate paying clients?!
This is THE Program to join – IF you are ready to stop playing around small, and go from your dreamy vision to serious success.

This 5-month journey isn't for those who are happy with their hobby-style business idea – if I'm committing to you, soul-sister, you need to be committed, too.

If you are looking to play bigger game in your business, then you know you need to go all in to win. BOOM!
After working in her parents' business and also in corporate finance for 10+ years, and running a personal finance blog, Reelika became an expert in balancing the personal and professional. She uses this business background to encourage other women in the online coaching field and to expand their reach through sales funnels, conversions, lead generation, evergreen business model, and passive revenue methods.
Reelika Schulte, International Business & Success Coach with Honors degree in Business, and Top 1% Conversion Club Award Winner
Your business needs a MIRACLE.
BECAUSE..
It's 2 AM again.
This is the third time this week your bleary eyes have been glued to a computer screen until the wee hours of the morning. You're hustling and really trying hard to make this online business thing work for you.
You've listened to nearly every nugget from every "expert" you've run across on Facebook and jumping from tip to tip from newsletters in your inbox. You're posting in groups daily, writing guest posts, trying to make it work.
All of that, and the research and the free tools… and you've only gotten a few bites from prospects, but not enough business that really makes you feel like:
"Hey, I finally made it."
But you're not giving up easily because you've got bills to pay and a family who is depending on your success.
It's frustrating you to tears, really.
You want to be able to have your own successful business where you're able to pay the bills and have enough money to take your family on a nice trip or something once in awhile.

You want to give to charity to help build schools and provide drinking water to people in need. You'd love to help family members when you see them suffering.
You want to make a schedule that works with your family, not work your family around someone else's schedule.

A following of loyal clients and fans of your work would be nice, so you can make real change in people's lives and to feel like you've made a mark in this world.
Is that too much to ask? Why is that so stinkin' hard?
Your entrepreneurial game just isn't happening the way you imagined.
No one is beating down your digital door and things are sometimes financially uncertain.
You're not here to struggle. You're here to soar. And you're ready to do it NOW.
I have some GOOD news, some GREAT news and some AWESOME news
The good news is that there's no reason for you to struggle in your business. None. Not one.

The great news is that I know what the real problem is. Are you ready to hear it? The REAL problem is, you are simply lacking proven strategy and support.

The awesome news is that you can turn it around now!

That's it! There's nothing fundamentally wrong with you. You aren't cursed. There's no hex on your family. You didn't make anyone mad in a former life. You just need a strategy that works and the willingness to go for it!

It's clear you have the willingness, but do you have a strategy?
Custom Support
Transforms Your Business

Christine went from burned out CPA to launching her Health Coaching Business in 2 weeks. She signed her first client for less than 4 weeks and the next two $3k clients during the next weeks.
LaKeisha signed 9 dream clients to her coaching program through automated marketing funnel and booked several speaking engagements
Will This Work for You? Yes!
Even if:
You have been struggling in your coaching business for a year or two on a sales rollercoaster?

You're wondering whether you even have what it takes to make it online ("not techy enough, smart enough, knowledgeable enough")

You are just getting started with your coaching business and need help launching and growing from "0"

You aren't quite sure what to offer, how to stand out online, or how to do the whole "marketing" thing
Brooke created a new coaching program, filled it with ideal clients and made over $30,000 in less than 8 weeks
Genevieve went from no niche or business to clarity, creating her premium $2,000 offer and signing her first client in few weeks
I created my Signature Coaching Program, and signed 4 clients during ONE week, including my first international client from Dubai!
It's all about being fit and fabulous!
I finally love what I do, and this is just the beginning.
I work with women with multiple sclerosis, and automated my marketing to serve them globally.
I had no clue how to implement those pieces in my business, but with Reelika's help I was able to start already in 2 weeks. My evergreen system is in place, and I am able to do speaking engagements while it brings in discovery calls, and empowers women with MS globally. This is just the beginning, and I couldn't be more excited!
I launched my Coaching Business from scratch. I signed my first $4,000 client to my Signature Coaching Program, increased my prices to $5,000, and I have my first ever passive income product!
Traveling to UK with my hubby and church!
I quit my job, and went fully into my business.
I signed 2 ideal clients, and my business has brought me many speaking engagements. I am able to take time off, and travel with my kids. My birthday will be in Bora Bora!
Decision to Succeed
From Dreamy Vision to High Level Success with Grace and Ease
The Decision to Succeed is specifically tailored for ambitious and visionary new coaches who would love to design a high-level coaching business online, serving clients globally with grace and ease.
If you're ready to ditch your insecurities and move forward in your business with confidence
If you want to design your own coaching business using your talents and skills
If you want to diversify your income streams and turn on the automation that keeps your income flowing, even while you sip margaritas at the beach
Keep reading. See, it's all about the:
Signature System + Strategy + Growth + Automation
Working together, you and I…
we're going to transform your coaching business and your world as you know it in just 5-Months! How exciting is that?
In Decision to Succeed, you will:
Launch your Premium Online Coaching Business that will make you stand out online as the go-to Coach in your niche (even if you're just starting out as a new coach).

Create value-packed Premium Coaching Packages ($1,500-$5,000 or more!), Groups Programs, Intensives, and Passive Income Products your ideal client is going to love and that sell out with grace and ease through automated business systems.

Implement the proven Business Structures and Marketing Systems that will bring you quality leads on autopilot 24/7 without spending every night and weekend on your laptop.

Grow your income and following with your authentic marketing message and gorgeous coaching brand to attract premium clients that will love the transformation you provide.

Become part of a high vibe community of amazing women who will be there to support you and create life-long friendships and allies in business.
I walked into this Program with NOTHING! WOW! Just wow!
I went from burned out CPA to launching my online Health Coaching Business in 2 weeks.
I signed my FIRST client less than 4 weeks, and next two $3k clients in few weeks later! Happy dance!
I was brand new when I got started.
I now have a clear idea of my ideal client, my signature program, passive income, and my business model.
I wanted to implement an evergreen business model, and have a steady flow of ideal clients every month.
My goal was one client per week, and I smashed it! Signed 5 one-on-one clients, and made $12,500!!
Thank you, Reelika, for always having my back.
I booked my first $2,000 client, and went from an idea to fully launched coaching business online. Since then I have signed 7 one-on-one clients, and launched several online courses.
It's such an incredible journey and I have never looked back.
If you have this desire, then go for it!
I was brand new in coaching, but I knew it was my calling.
I trusted God to show me the way, and it has paid off well.
I know who I serve, and I have already signed 6 clients to my Signature Coaching Program, and launched 6 passive income products!
Thank you, Reelika, and thank you God!
Here's the Decision to Succeed Plan of Action:
Month 1: Build Your Powerful Signature Business System

Decide on a business model that's in alignment with you
You don't want to work weekends? Done. Want to take Friday's off for self care? Perfect? You get to decide what your business is and is not.

Discover what makes you unique, and how to use the power of your story to stand out online
 You're not like anyone else and neither is your business! Learn to successfully and effortlessly do your market research, so you can narrow down your ideal client and use your unique story to market to them

Feel like an imposter in your market?
 I'll show you how to get absolute clarity on becoming the go-to expert in your niche with confidence so you can approach clients with poise and grace

Design your high-end coaching program
 Once you know what you're offering and to whom, stand out amongst the others and charge what you're worth
Month 2: Create a Custom Strategy

Master Facebook marketing strategies
Meet your potential clients where they are. Facebook. Stand out and attract your ideal clients by the dozens every day

Design your lead magnet
Like bees to honey, find out what your clients want and mesmerize them with your free lead magnets building your list fast

Create your sales funnel
Converts your prospects to happy customers by doing the work once and watching the inbox notifications forever!
Month 3: Design Your Signature Style

Craft your signature message
Potential clients will think you're reading their minds when you talk directly to them in their words as the go-to expert in your field

Creating content that sells with less time and effort
The magic of repurposing and how to leverage everything you do

Copywriting
The words that sell and the words that repel, are you using them on your website?

Design a personality brand that shines
Show your brilliance through your unique branding and design your gorgeous website that stands out and is memorable
Month 4: Grow Your Credibility and Following

Host your webinars like a superstar
Grow your credibility and book your sales calls like whoa!

PR prowess!
Learn the magic of PR and collaboration, and how it can grow your following fast

Build your visibility fast with Facebook ads
It's time to implement simple yet effective marketing strategies that position you as the go-to coach in your niche even to the cold leads
Month 5: Automate and Diversify Your Income Streams

Diversify your income streams with passive income products
Create passive income products without doing extra work!

Turn on the evergreen machine
Book your sales calls on autopilot and make sales, even when you sleep

Optimize your sales funnel
How to increase conversions so you are set up for long-term success forever
Yes, you should expect to grow your following, your team and your income! You can make a bigger and more powerful impact in your "run it from anywhere, serve people everywhere" business.
ARE YOU READY FOR SUCCESS?
Thank you Reelika for believing in me, and showing me what's possible. I just got my two clients and both of them paid in full! My very first $10k month while traveling with my boyfriend. New normal!
I quit my job in few weeks, and signed 2 clients!
I can't even express how much Reelika has helped me to develop my business. She has been an invaluable resource for a budding entrepreneur like myself and has given me the support and business suggestions that have taken my brand to the next level.
Having Reelika as my coach is the best business decision I have made and I can't thank her enough!
I went from blogging to coaching and created my very first coaching package.
I implemented the evergreen system, and made over 6-figures in my coaching business!
Reelika takes the time to truly get to know you and your business, and supports you with a sincere, genuine and honest style. Reelika is such a savvy business woman and is the GO TO EXPERT for coaching and funnels! Reelika also has an amazing way of making you feel like you are capable of anything, and will help you achieve even your biggest goals and dreams!
I'm Reelika Schulte
and I'm here to help you launch and grow your online coaching business, so you can cut the guesswork and finally make money and spend time with your family. Not one or the other.
I help new and aspiring women coaches, just like you, create success without burnout by taking their big dream and turning it into a signature program. Together we're going to develop income streams through sales funnels and automation.
I know that there are a lot of business coaches out there, promising you success with no real business knowledge or experience. That's kinda like taking your car to a nail technician for an oil change. You wouldn't do that, would you?!
I received an honors degree in business and finance and I followed the traditional path and worked for Fortune 100 companies. Despite my success in the corporate world, my heart hurt every day that I had to spend long hours away from my son. It was the complete opposite of my dream lifestyle. That's why my online business was born.
Maybe that's why you're on this path too?
You want more than a "traditional 9-5 life."
But let's face it, getting my first paying client, as you know, didn't just happen. Nor did earning consistent passive income, getting published in Forbes, or building an entire international coaching business. Those weren't accidents that I stumbled upon. I wish it were that easy!
To get here, I had to take ACTION with COMMITMENT (which is what you're likely doing now) but beyond that, I had to use a STRATEGY that actually worked. When I finally got the strategy piece down, it ALL happened way FASTER than I ever imagined!
Looking back, I wasted too much time, energy and money building my business… but you don't have to.
This is exactly what you can have too and I'm going to show you how. You can duplicate proven steps and follow a roadmap to success. Now is your time to launch and grow!
You've been busting your tail… hard. Isn't it your time? Don't you deserve to finally see those email notifications on your phone. "You've received a payment"?
What you're creating here is not only a business, it's a life. It's an opportunity to be the parent you want to be. It's your key to everything that you know that you're supposed to have in this life.
What's included in your Decision to Succeed?
You'll get:
Comprehensive Welcome Packet that sets you up for success

30 min Success Mindset Call

Recordings of all live calls

Access to the Membership site

3 Step-by-Step Coaching Modules per month over 5 month period, so you know EXACTLY what you need to focus on (without any fluff so you only focus on the RIGHT things in your business)

20 Live Q&A Coaching Calls with me (One 50 min call per week) to get my eyes on your business and all your questions answered
15 Workbooks (3 per month), which will show you exactly how to implement strategies in your business

5 Accountability Checklists (1 per month) which keeps you on track that you have actually implemented everything from the past 3 weeks before you move on to the next month's modules and strategies

Additional tutorials and templates for yours to keep forever

Guest Expert Trainings

Private Facebook community to get additional support and build amazing relationships with other like-minded women on the same journey
But don't just take my word for it

Susan recommends Reelika as a business coach

John Lee Dumas recommends Reelika
I launched my online coaching business from scratch and I always know where my next client is coming from!
"The biggest risk is not taking any risk… In a world that changing really quickly, the only strategy that is guaranteed to fail is not taking risks". ~Mark Zuckerberg
Picture it, you've committed to your success. You're ready to light a fire, stop playing around and make things happen.
You click the "Apply Now" button and schedule your complimentary Breakthrough Call, a shot of adrenaline rushes through your body. All of the sudden, you feel committed beyond your words. You've taken big action and the universe knows it.
You're so excited, but also a little scared. Okay, maybe a lot scared, if we're being honest. This is uncharted territory. You're really doing this thing! Wow, how CEO of you!
Nakeesha quit her job in HR, signed 2 clients, and all of it in a matter of weeks!
You'll also get my hand-picked guest expert trainings
Sales expert to guide you through exactly how to bring in more revenue.

Mindset expert to support your elevate your growth.

Copywriting expert to provide feedback to your sales page, website and any other copy

Facebook ads expert to walk you through exactly how to achieve success and convert leads to sales
What happens when you enroll?
You check your email and read over your welcome packet. You schedule your 30-min, one on one Success Mindset Strategy Call to say "hi" and chat about your goals and desires (my favorite part!).
You even make a trip to Office Depot to get some new notebooks, pens and maybe even some of those cute little color-coded paper clips, just like you used in school.
It's go time!
Every week, you excitedly check your inbox. You tear into your 3 lessons each month like a kid on Christmas morning. You work through the strategies and implement them one by one. You follow the step-by-step road map that sets your business up for success with every step you take. You use your implementation weeks to catch up on lessons and go one step beyond that because you want… no… you NEED this business to be a success.
Every week, you focus your attention on the 50-minute, live Q&A coaching sessions where you ask questions specifically about your business.
You go to the membership site to watch and apply the videos that support your growth even in those hours when no one is awake.
Some of the questions that you had about copywriting, building a converting website and what exactly you need to do to set up Facebook ads are answered in the guest expert training sessions that you got as a bonus for signing up early. Score!
Your new favorite hang-out is in the Private Facebook Community, you've even made some new friends that you talk to about all of the success you're seeing in your business!

VIP support is obviously included!
You'll get additionally

10 50-min One-on-One Calls with Reelika over 5 months


1 2.5 hour intensive
Patricia launched her online Coaching Business, has been invited to TV and radio shows, and is now organizing her first 3-day Live Coaching Event!
WHAT CLIENTS SAY IN SOCIAL MEDIA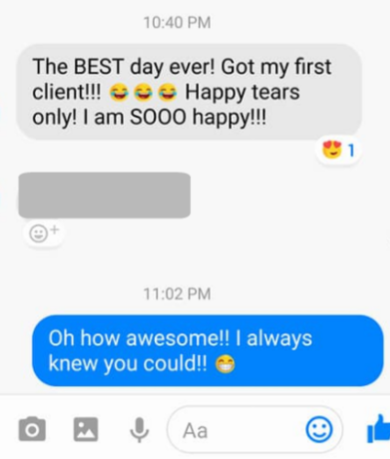 When you reach the end of your 5-month Decision to Succeed you:
Know exactly what makes you unique and how to stand out from the sea of coaches

Have a high-end signature premium program that your ideal clients are buying like crazy

You are the go-to coach in your niche and have successfully designed the lifestyle you crave!
Your lead magnet, sales funnel, and evergreen webinar are bringing in leads 24/7

Your passive income streams allow you to go on vacation without panic attacks about money

You wake up to sales notifications in your inbox
Ready to Launch and Grow Your Coaching Business with Zero Drama and Overwhelm? No more struggling. No more hobby business. Let's do this!
Nutritionist Ashley testimonial
Real Estate Coach Rochelle testimonial
John Lee Dumas recommendation
Cat is a Social Media Coach, who launched her business, signed 2 clients, has been invited to speak on stages, won awards for her work, and is now travelling to exotic locations with her kids! (Next destination: Bora Bora!)
Entrepreneurial Mindset Coach Ladi launched her Coaching Business, signed 6 clients to her brand new Signature Program, and launched 6 passive income products!
I haven't even started my own Coaching Business yet. Can I still work with you?
Yes, if you wish to create a coaching business. Starting a coaching business is when support is especially powerful! It will save you many wasted hours in working out what to do, decision-making on your own, and worry about whether it will work and be a success. I'll be right there by your side every step of the way. You should, however, at least have an idea what you want to create.
I just recently started my Coaching Business, is this Program right for me?
Yes! I believe there's no reason for you to wait for another year to get your first paying client. Whether you're just beginning or you've been in business for a while and aren't making the big impact and money you desire, you simply need to master the business and marketing knowledge I'll be sharing with you in the program. This program will give you the exact steps you need to take to sign your paying coaching clients, make passive income every month, and have a highly-successful online coaching business, while standing out from the sea of other coaches, and creating the lifestyle and freedom to your entire family.
What makes this different from other programs?
You will be working with me throughout your Program, and it's my unique mix of experience, talents and high level coaching training that will rocket your success and help you get to your desired result sooner.
I'm a Business & Success Coach with honors degree in business and finance. I have worked for Fortune100 company, and also been part of my parents' company over 12 years. Before transitioning into coaching, I actually had already successful online business that brought me consistent passive income, got me featured in Forbes and HuffingtonPost Business section as well. But I also know what it really takes to build a business from scratch, be stuck in the fear and doubt in yourself. The good news is, you are in the right place, and what worked for me, works for you as well.
You'll be personally guided by me as I'll listen to what it is you truly desire and support you with the exact next steps. You'll be also surrounded by your high-vibe mastermind soul-sisters in the program. Relationship always comes first at Decision to Succeed, so you'll get lots of support in the Facebook group and on the weekly calls with me.
How will I get the training materials?
This is entirely online Program, so you can attend your weekly live calls no matter where you are in the world (whether you're at home or travelling). All the materials will be provided weekly basis, and you can access to the Private Membership site 24/7. All the calls will be recorded and you can re-listen those as many times as you prefer.
Is there anything else included in the Program?
Yes! There are several guest expert trainings, step-by-step tutorials, private Facebook community, and I often give feedback on branding, landing pages, webinars, websites, copy and visuals to help you reach the right decision for you and your business. I'm like a business partner in your business, as well as your success coach!
Is this Program too advanced for me? I'm already established in business... or the other side of the coin...will this program be too basic for me?
This course is for anyone who wants to be enrolling consistent clients into their high end coaching program, and make additionally consistent passive income online. If you are not at this stage yet then this Program is for you!
I'm not a Coach, will this Program work for me?
This Program is mostly for Coaches, who want to establish themselves as Premium Coaches online, and make passive income. However, as long as you're in an online service-based business, such as consulting, healing, fitness, design, etc., you can benefit from this program as these marketing strategies are easy to apply to any of these online businesses.
Do I need to be a certified coach to enroll?
No, not at all. You just need to have a big vision and dream that you want to bring in life now, not one day.
I'm still trying to figure out my ideal clients, programs and marketing, will this Program help me do that?
Yes. That's perfect, because we'll focus on all of these aspects and you'll get step-by-step roadmap that helps you do all of that.
I'm not making any money in my business, is this Program for me?
Yes! Most likely you're not making money in your business, because you haven't mastered the online business marketing, and passive income streams. Once you have some business foundations in place, typically you just need to make a few easy tweaks to what you're already doing to start seeing some positive changes (both in your coaching business and your bank account as well).
Lovely, I have been in that position, and I know once you go all in, you're up leveling SO FAST that you won't even recognize your business and life 5 months from now. (I say this from experience!)
I don't have paying clients yet. Should I wait until I get one before investing in my business?
If you're not booking paying clients and you're still struggling to put yourself out there as a high-level coach, then I highly recommend you sign up for Decision to Succeed now. If you keep doing what you've done before, you will keep getting the same results. Investment always comes first, that's why it's called return on investment.
The most important thing is to start!
When can I expect to make my money back or have my first $5k+ month?
There are no guarantees and everyone's journey is different. Therefore, you can only enroll by application only. I want to make sure you have what it takes to be successful online. What you achieve will depend on the amount of time, focus and action you take, and where you are at personally and professionally. What I do know is that everyone I have worked with says they have made powerful changes, it's been a worthwhile investment and many describe the experience as 'life changing' and that 'the investment made is almost insignificant in terms of the benefits received'.
My clients have gotten amazing results implementing everything I teach in this program, and I truly believe this is possible for you, too. If you're committed, you make no excuses, and you do the work– Decision to Succeed is for you! I firmly stand behind everything I will share with you in this program, because I know that this has worked for me personally, and for my clients. I'll show you the way, but you've got to take the steps, lady! If you're starting completely from scratch, you can expect to start making money closer to the end of the program once you get all of the business structures and foundation in place.
Do you offer refunds?
I do not offer refunds, because the kind of women who reaches abundant success is the one who is 1000% all in and committed to achieving the results she is capable of. There are no guarantees as to what you will receive from the Program, because it all depends on you. I want to set you up for success from the beginning by believing in you so fiercely that there's no room for escape routes or plan B's.
Can I pay in installments?
Yes, I understand that sometimes a payment plan makes much more sense for the new coach. I have payment plan options available and you can also arrange your own finance though savings, personal loans, interest free credit cards or other sources.
One thing I know for sure: if you wait for all the money to be there upfront, sitting, waiting to be spent, you'll be waiting forever, and miss out on the chance to create an even better life right now.
When does the Program start?
The moment you join the program you'll receive orientation information, get access to the Private Membership site, and a day later you will receive your Coaching Module 1. You will receive modules on a weekly basis, aside from implementation weeks which are weeks 4, 8, 12, 16 and 20.
Trust me you will be grateful for the implementation weeks to take action on outstanding strategies that you need to incorporate into your coaching business.
Can I upgrade to the VIP track later?
Since I'm only one person, VIP track option spaces are limited. I highly suggest you sign up on a VIP track now.
How do I get started?
I want to make sure this Program is right fit for you, so enrolment is by application only. Schedule a time for your Free Discovery Call when we explore what you want to achieve through the coaching program and if we are a good fit to work together.
*Individual results vary. Success is hard and every single person has been coached through the fear. It's important to add a disclaimer that these results aren't typical nor are they guaranteed. I actually need to apply the strategies that I teach if you want to grow your coaching business. My goal is to help you cut down the learning curve in order to design coaching programs that sell and attract the right customers to grow your business.

Have you made a Decision to Succeed in your Coaching Business and life?